By Joy Bonala, Summerville Journal Scene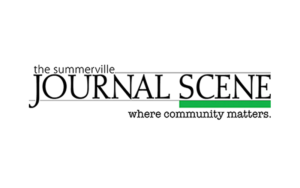 SUMMERVILLE – As a single father, Tracy Hines wasn't sure how to handle his 10-year-old daughter's disobedience, her attitude or unique emotional needs.
"Girls are totally different than boys," Hines said.
He is not comfortable with "feeling like the bad guy," Hines said, when he has to discipline his "baby girl."
Hines sought out help from Dorchester County's first Strengthening Families program, a 14-week program sponsored by the Dorchester Alcohol and Drug Commission and Carolina Teen Center. For the past three months, Hines and his daughter, Destinee June, have attended the program's weekly sessions at the Brownsville Community Church of God.
On Thursday evening, the two sat down to a three-course family dinner, talking for a half-hour while enjoying the meal. After supper, families parted ways for an hour so parents could attend a class focused on positive discipline techniques. At the same time, children gathered with their own teachers to learn about skills needed for success in life.
"It has brought us closer," Hines said.
In addition to strengthening his father-daughter bond, Hines said Destinee's reading level has improved because of the program.
Hines is one of three single father's enrolled in the first series of Strengthening Families in Dorchester County. Other enrolled participants include single mothers, traditional families and grandparent-led families. The only requirement is that families have at least one child age 6 to 11.
Strengthening Families is possible because of an $85,000 grant from the Children's Trust of South Carolina. Mary Lynn Tollison, director of prevention at the Dorchester Alcohol and Drug Commission, said Dorchester county is first in the tri-county to apply for and receive the grant. Tollison said she plans to reapply for the grant next year and continue the series.
This year's funds supported two 14-week cycles of the program. The first began in November and ends with a graduation ceremony on March 7. The second cycle takes place April to June.
Tollison said people keep asking her, "how do you get 12 families to commit to come to something for 14 weeks?"
She credited the program's generous incentives; child care offered at no charge, gas cards to relieve travel expenses, a weekly "early bird" gift card from Piggly Wiggly, bonus gift cards for completing "homework," and a weekly drawing for a gift basket filled with $100 worth of additional gift cards and home accessories.
Tollison said she has been "extra cautious" with the budget so that 65 percent of the grant funds go to incentives.
One feature that she didn't hold back on financially was the program's meals. Tollison and Lisa Hart, founder of the Carolina Teen Center, hired Smalls Time Catering from Moncks Corner to prepare nutritious, hearty meals every Thursday night.
Tollison said it was important that families receive "a nice hot meal every time."
"Many of our families tell us this is the first time all week that they really sit down and have a chance to talk," Tollison said.
The program's budget has also been used in unexpected ways. Hart said a few weeks into this cycle of the program, one of the parents lost her job. Hart helped the woman update her resume and purchased a pair of scrubs for her to begin a new job.
"We do a lot more to build these families than just Thursday night," Hart said.
The Curriculum
During the first four weeks of Strengthening Families, the curriculum is all about "child's play."
Parents are encouraged to observe their children playing games so that they learn about their children's behavior. During the next four weeks, families focus on communication. There is an emphasis on family meetings, setting boundaries and positive forms of discipline.
The final weeks are all about parent empowerment- teaching parents to take charge of discipline and develop their own family systems.
SanRoman King, 60, said his family has benefited from developing a system for teaching his granddaughter, Amiyah, 8, about what is right and what is wrong.
He was given a chart full of advice for handling typical disagreements or conflicts that adults face while raising a child. Instead of letting anger or frustration take over, King said now he can react to his granddaughter in more positive ways.
"It has really turned my relationship with my granddaughter around," SanRoman said.
He said their relationship wasn't bad before, but he simply lacked "the tools" needed to raise Amiyah so that she understands there are consequences to her actions.
"At first it was hard to commit to the 14 weeks but the very first night I came, I feel in love with the program," King said. "I was ready and eager to come back the next week as well. There's so much more to learn."
Peer Support
Sydney Conrad works as a community domestic violence liaison for Dorchester County, she's serving as one of the facilitators for Strengthening Families.
"This was a really cool opportunity to work with the families in a different capacity," Conrad said. "To talk with them one on one and then in groups about issues that affect their family and give them real and practical tips on how to help them parent their children and work through different behaviors."
Conrad said she's already seen improvement and cohesion in the families since the program began.
She said parents are eager to talk through some of the dilemma's they face and that sharing process takes a lot of time.
"We could have twice as much time to talk about things," Conrad said. "People are supporting each other and talking about what works for them." "There's a community feeling now, the families are connected. The hardest thing for me is closing the doors at the end of the night."
Peer support is what Taundra Campbell said she enjoys the most about attending Strengthening Families.
"It's families helping families," Campbell said.
She enrolled in the program to receive advice on ways to better raise her granddaughter. She said after the first few weeks of attending the program, her granddaughter began to be more cooperative with household responsibilities and chores.
"Another thing is we have fun," Campbell said. "We enjoy coming (to Strengthening Families)."
Twenty-four counties in South Carolina have at least one Strengthening Families program site. To learn more about the next cycle taking place in Dorchester county, contact the Carolina Teen Center, 843-364-1363.
---
Source: Summerville Journal Scene