As Children's Trust continues its expansion of the Strengthening Families Program across the state, the organization found a strong partner for Laurens County in Thornwell Home for Children. Neil White and Michael Shirley, who tell the stories of Children's Trust, covered the recent SFP graduation ceremony on the Clinton campus.
In looking to expand its community-based programs as part of its evolving mission, Thornwell Home for Children saw the opportunity to add the Strengthening Families Program when Children's Trust of South Carolina began to explore potential grantees in new counties over the summer.
Six months later, it's safe to say a great match was found by both parties. Thornwell hosted its first graduation ceremony for 14 excited families in December on its Clinton campus after the completion this fall of the 14-session program.
SFP focuses on serving families with children ages 6 to 11 through local partners in settings that include community centers, schools, and churches. SFP is designed to help families develop positive discipline practices, stay resilient in tough times, reduce conflict, improve parenting skills, and assist children with social skills, relationships, and school performance. All of these factors play an important role in keeping families strong while protecting against potential neglect or abuse.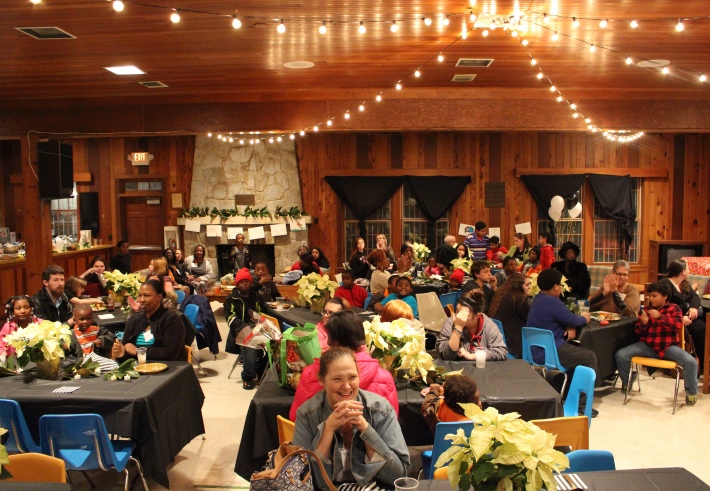 Bethany Collins, the SFP site coordinator for the Thornwell program, watched the families embrace the format, where parents and their children participate both separately and together in the facilitated classes. The sessions, which always begin with a family meal, typically last 2½ hours.
"I saw them come back week by week, and they would come in dedicated. They said it's the best program they've gone through – some have been to other parenting classes – because of spending family time, being able to eat together, using the information together," Collins said. "A lot of the families made new friends. They really invested in it quickly, especially the camaraderie of being in it all together as a support group."
Collins credited Children's Trust SFP coordinator Sherri Caldwell for her coaching in helping Thornwell's facilitators and participating families understand the program's core principles.
"It's one of the best programs we're going to offer," Collins said. "Anything we can do that's preventative before the family behaviors start falling apart completely is going to be a huge addition to our community."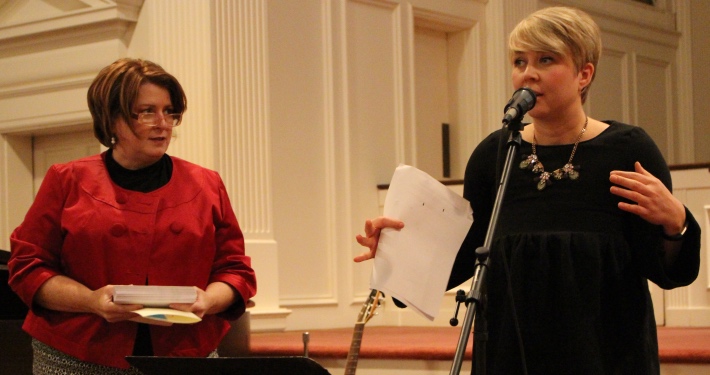 SFP participants who successfully complete the program graduate in a celebratory, uplifting style. Typically, 10 to 15 families will participate at each site. The fall graduation ceremonies wrapped up in December at 17 sites around the state.
Thornwell began serving children and families in 1875 as an orphanage built by the First Presbyterian Church in Clinton. With a long history in South Carolina, Georgia and Florida, the nonprofit remains committed today to providing innovative and effective solutions. Thornwell's continuum of care includes family-style residential care, foster care, family and education support services, and early childhood development.
"Finding established partners for our Strengthening Families Program was a priority as we looked to expand it into more counties in South Carolina," Children's Trust chief program officer Lee Porter said. "Thornwell Home for Children came to us as a known quantity and delivered the program in a manner that will help families in Laurens County become stronger and more stable."
The expansion continues into 2017, as 18 local partners will provide SFP at 25 different locations in 21 counties from January to May. Children's Trust was awarded $9.5 million last year by The Duke Endowment and S.C. Department of Social Services for the expansion efforts from 2016-18.
The Thornwell graduation meal and festivities took place in the Marshall Activities Center, while the actual graduation was held at the Hartness-Thornwell Memorial Presbyterian Church. Many of the participants relayed their gratitude in emotional statements after receiving their graduation certificates.
"The experience overwhelmed my heart," Kathleen S. Evans said before the assembled friends and families.
The addition of community-based programs like SFP are a way to serve families in a more holistic fashion. Megan Jones heard about the program and decided it just might be what she needed to build stronger bonds with her four kids: Natali, 10, Justice, 9, Bryson, 8, and Cameron, 7.
"I loved the family interaction. That was the best," Jones said. "I learned about consequences and discipline and praise, and they were also learning that in their class, too, so they could understand me at home."
Her children helped reinforce those positive messages and interactions when they returned home to their everyday schedules.
"My kids remind me. That's a good thing about them being involved in this," Jones said. "Some stuff you have to be very consistent for it to work. As long as you were consistent, it made a lot of difference."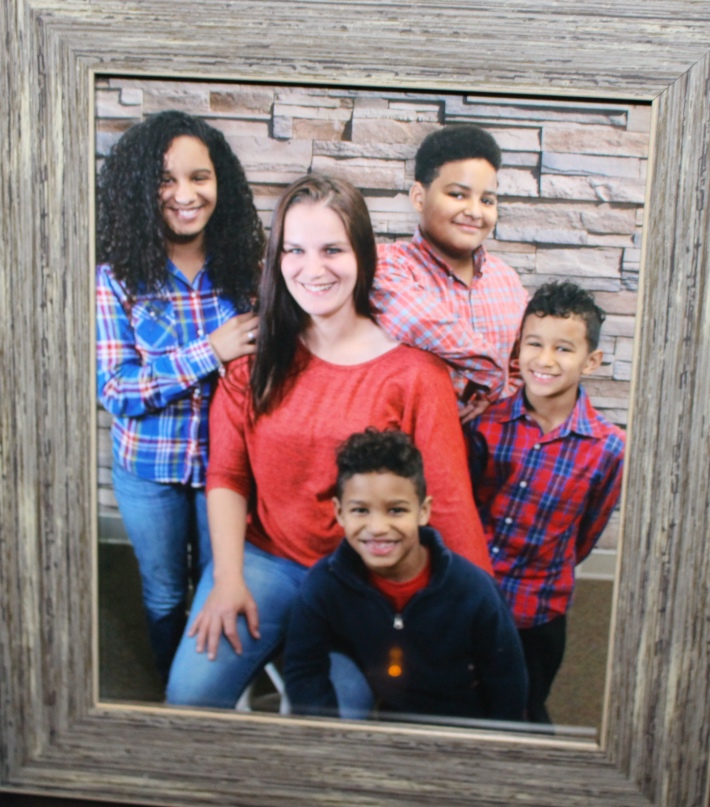 Like many participants over the years at sites across the state, she was thrilled to graduate but also somewhat sad the weekly meetings over four months had come to an end. Many of the families would eagerly show up early each Tuesday in anticipation of the evening's activities.
Sonya O'Neal, Thornwell's vice president of programs and clinical services, wanted to find a program that incorporated the five protective factors, which are conditions that help families thrive and reduce the incidence and consequences of child abuse and neglect. She found a willing partner to recruit families in the GateWay Counseling Center, which serves Laurens County residents who need assistance with alcohol and other drug problems.
O'Neal has heard the positive feedback from the parents and the children over the course of the 14 weeks. And she has seen the families develop their bonding skills as they interacted at the weekly sessions.
"We have watched it work. When we do our meal time, we have watched families use that time for their family meeting and practice sharing what has happened during the week," O'Neal said. "We do a lot of work just teaching families how to have good, fun conversations."
After the ceremony, families received a variety of graduation prizes, including family portraits for all of them. Word has spread in the Clinton community about the success of the program in its first run. New families are already lining up to participate in the next cycle this spring, and a few of the recently-graduated parents want to volunteer to be trained as group leaders in coming cycles.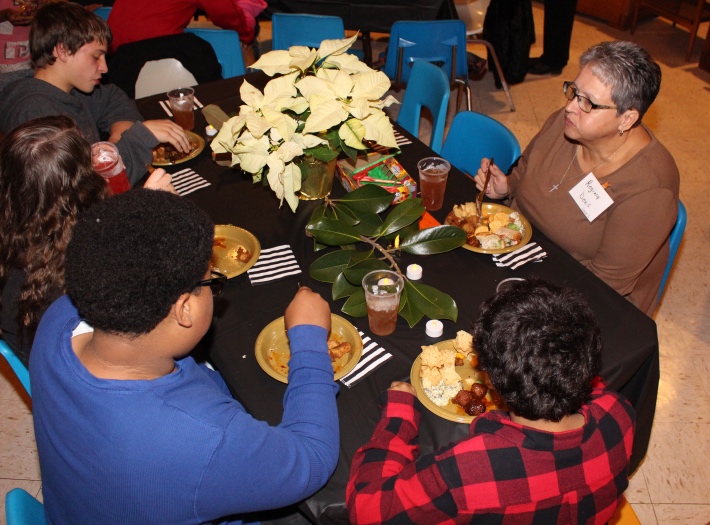 Regina Dees graduated along with her stepgrandson Michael, 10, and she came away with a greater understanding of Michael's behavior and her reactions to it.
She learned better ways to approach the different things that he does. She heard about the program through a fellow church member who works at Thornwell, and she was thrilled with gaining many new friends through the experience.
"We learned a lot through the class. The best thing I learned about it was having the family meetings," Dees said. "Michael loved it. He had a good time. He liked being with the other kids and learning. He got a lot from it. I wasn't sure if he was going to enjoy it, but he did."