Megan Branham, policy and government liaison at Children's Trust, gives a recap of the legislative session and her thoughts on looking forward.
The start of the 2015 legislative session back in January seems like a long time ago. Like most years, this session moved quickly at times and very slowly at others. Bills pass (or don't) and legislators and advocates move on to the next pressing issue. It becomes easy to forget what gets accomplished (or not).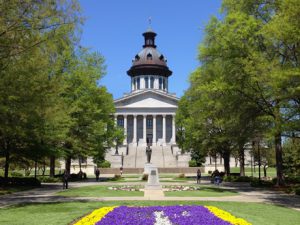 Looking back over the last six months, it's apparent this session left several big items hanging for the next one.  The Senate Department of Social Services Oversight Committee produced its report in early spring after more than a year of testimony and hearings. While legislation was passed giving child abuse health care providers necessary access to a child's medical records in cases of suspected abuse and neglect, additional comprehensive legislation is needed to prevent adverse childhood experiences and bolster our child welfare system. And in the last moments of the legislative session, a budget proviso surrounding the usage of floor beds in child care centers again brought to the forefront the need to better address child care safety, quality, and licensing.
The First Steps Study Committee also gathered testimony over the last several months addressing various early childhood programs. While the committee's recommendations won't come until the start of 2016, First Steps must be reauthorized by next July, leaving little time to pass legislation strengthening early childhood systems that support families preparing children for school.
Child welfare and quality early care and education are not unique challenges to our state or our country. South Carolina's thought leaders and legislators are among countless others across our country who must weigh tough decisions that would require states to prioritize and appropriately fund programs and services that reach our most vulnerable population, our children.
The release of the 2015 KIDS COUNT Data Book this week depicts the reality of the tough challenges facing children and families in the Palmetto State. If ever a bright spot existed, it's this: For the first time in the 25 years The Annie E. Casey Foundation has been collecting this data, South Carolina ranks No. 42 nationally among states. That's an improvement of three spots from last year's report.
These positive numbers are no fluke. Strong advocacy and policy, adequate funding, collaborative work and strategic alignment of state and nonprofit efforts have made these improvements possible. While we are starting to see the payoff in areas of health care, this data spotlights the undeniable truth that poverty, education, and racial and ethnic disparities cannot be ignored.
As legislators, thought leaders and advocates begin thinking about the 2016 legislative session, we often ask, "What if?" The phrase provides a number of hypotheses: What if we had enough time, money and other resources?
But perhaps the better question is, "What if we don't?" What if we don't face the difficult issues this latest data clearly shows? What will the 2025 Data Book look like? And will we then find ourselves asking, "If only?" As a state, now is the opportune time to use this data to enact a new way of thinking.  The 2016 legislative session is good place to start.