Children's Trust has published its Annual Report, Partners in Prevention, for the 2020-2021 fiscal year.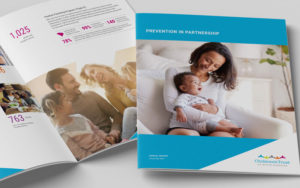 We produce this document because it shows our values in action and works to hold us accountable to South Carolina's children and families, our partners and our elected officals. Our story is about our partnerships, our leadership in prevention and our commitment to earning your trust through accountability, transparency and our standards for excellence. 
This has been another year where the coronavirus dominated our way of living. We heard about, and saw firsthand, the struggles of so many across our state. Families with children have especially been impacted by closing childcare centers, school staffing challenges and virtual learning, and the ongoing mental health struggles for parents as well as their children – all due to COVID-19.
While this Annual Report shares the highlights of the work we did and how we carefully utilized the resources given to us, it is merely an overview of the totality of our data. And it is an impressive picture of our work to serve vulnerable families throughout this crazy year.
However, what it doesn't show is the tremendous creativity of our staff and partners to pivot and authentically serve families; the countless hours of Zoom meetings, phone calls, and data entry to ensure our programs retain the highest standards of quality despite being virtual.
Our mission – strengthening families, organizations, and communities to prevent the abuse and neglect of children – guides everything we do. We know that work is made possible by unending support and strategic guidance from our board of directors and the financial support from our sustaining partners, sponsors, donors and the legislature.